QLD BAG BAN FROM 1st JULY 2018 - ARE YOU READY ?
Author: LMZ Date Posted:17 April 2018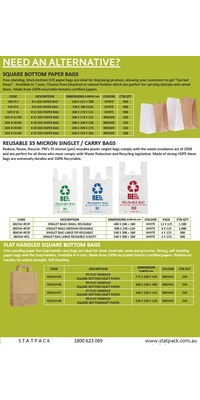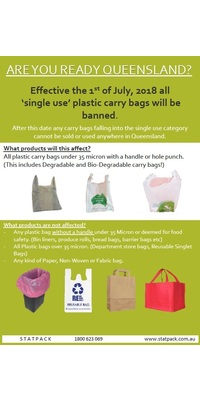 QUEENSLAND BAG BAN FROM 1ST JULY 2018
What bags can you use?
- Any plastic bag without a handle (examples: bin liners, cell bags, produce rolls, punched bags for fruit and veg., herbs sleeves)
- Plastic bags with handles (carry / singlet / check-out) over 35 micron of thickness
- Any kind of Paper, Jute or Fabric bags
What bags will be banned?
- All plastic carry bags under 35 micron of thickness with a handle (or hole punch)
- This includes Degradable and Bio-degradable carry bags!
Please contact us should you need some help in finding new suitable carry bags for your customers.